With the number of Doraemon/Murakami collaboration prints at 37 offset editions, 26 hanga editions and counting, it's no wonder that there is confusion about what's what. What's so great about Doraemon anyway? Who on earth is Murakami's collaborator, the mysterious Fujiko F. Fujio? Why does this print retail literally for $4000 and while that other print for $100? All these questions and more to be examined here!
Murakami and Fujiko F. Fujio collaborate apparently to confound every Murakami print collector. Not since the proliferation of And Then Red and blue Dobs, or even the frenetic generation of nearly two dozen red Flower Balls has this level of print chaos been generated by the Kaikai Kiki Factory!
While some fans may feel euphoria at the abundant proliferation of editions from the wedding of Doraemon and Murakami (Muraemon? Durakami?), others may merely see the most logical extreme of Superflat product marketization since the development of a website devoted primarily to Murakami prints;)
Everyone Loves Doraemon!
Since the 1970s the Fujiko F. Fujio 藤子・F・不二雄 franchise has successfully embedded Doraemon deep within Japanese pop culture; so like everyone's favorite mouse, that cat Doraemon flourishes through mere-exposure as he has ubiquitously existed through the entirety of most our lifetimes. Doraemon features in compelling tales of adventure that successfully mash up science fiction, adventure and even a tad bit of romance. Doraemon has even obsessed a few academics. No one in Japan can imagine life without the cute little blue earless robot cat, his pal Nobita, Shizuka-chan and crazy alliterative gadgets like the Anywhere Door (Dokodemo Doa), or the Jelly Paste Translator (Honyaku Konyaku).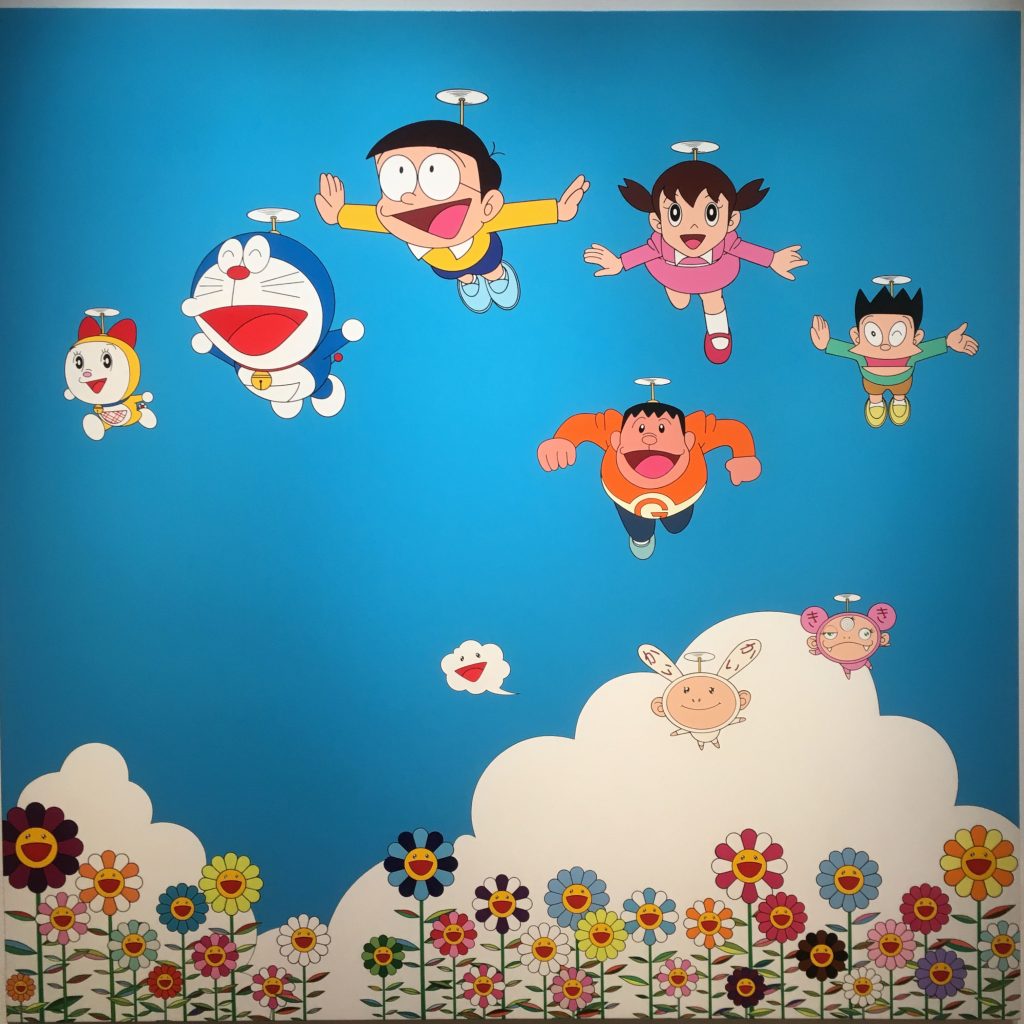 Takeshi and Fujiko F. Fujio team up!!
2002 ushered the initial Murakami/Doraemon collaboration in the exhibit, Make Your Own Doraemon あなたのドラえもんをつくってください, which featured Doraemon homage works of 30 notable artists at the Suntory Museum. The premier Murakami/Doraemon work My Summer Vacation with My Little Brother and Doraemon feature Murakami's Kaikai & Kiki floating with the aid of a Doraemon Bamboo Toy-Helicopter, the Take-copter.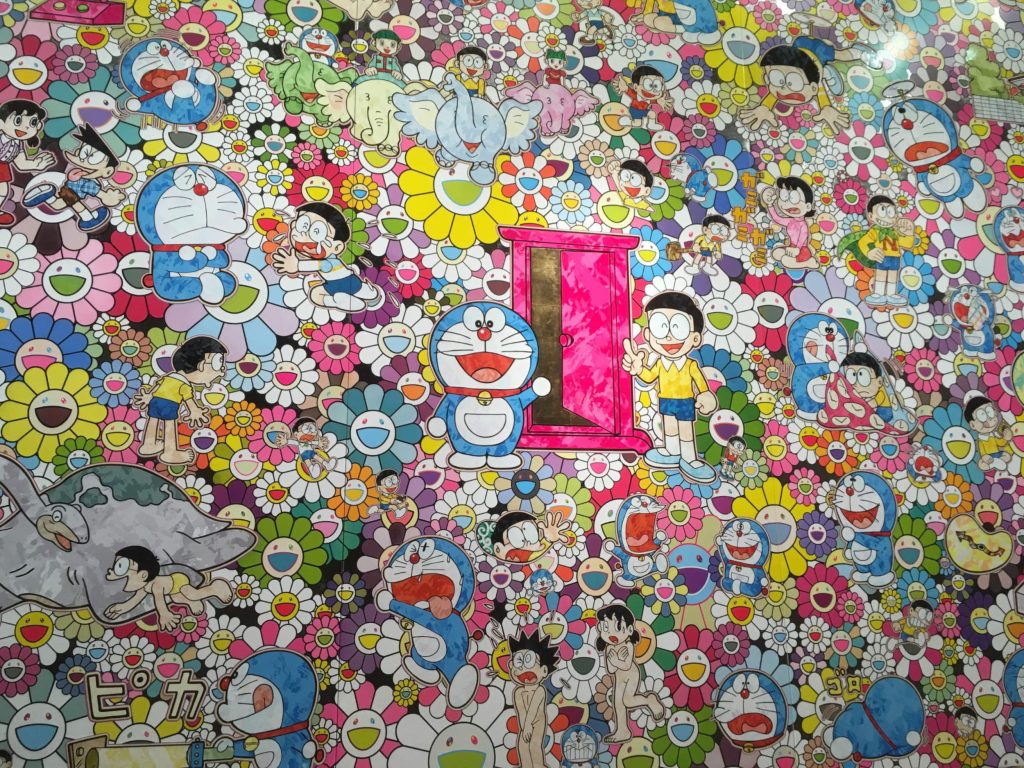 The second Murakami/Doraemon painting, Wouldn't it be nice if we could do such a thing? あんなこといいな 出来たらいいな debuted in 2017. The giant painting depicts many iconic Doraemon scenes and devices immersed in Murakami's Hana-chan background. Read more about the painting series in: Doraemon x Murakami Symbolizing Japanese Culture through the Finest Manga and Fine Art Collaboration ドラえもんx村上隆。日本文化を象徴する、マンガとアートの最強コラボ. (However, non-Japanese readers can either enjoy the pictures or use ChatGPT with a grain of salt.)
At some point in 2019 Murakami struck a deal with Motoo Abiko (安孫子素雄 1934-2022), at that time the remaining half of the legendary Doraemon creative duo (sans Hiroshi Fujimoto 藤本弘 1933-1996), to produce an extremely well-received print series.
Motoo Akino and Hiroshi Fujimoto, became a manga writing pair in 1953 under the pen name Fujiko F. Fujio, with a collaboration that spanned over three decades. Strongly influenced by the work of the master artist Osamu Tezuka, they eventually created Doraemon who debuted in 1970 and the character became a runaway hit.

The 2019 print collaboration formed just in time to celebrate Doraemon's 50th anniversary, culminating in the second incarnation of the Doraemon exhibit, which, as before, included the work of many notable artists presenting creative takes on Doraemon. The exhibit began in Osaka and toured different museums throughout Japan.

ALL DORAEMON PRINTS 2019-2023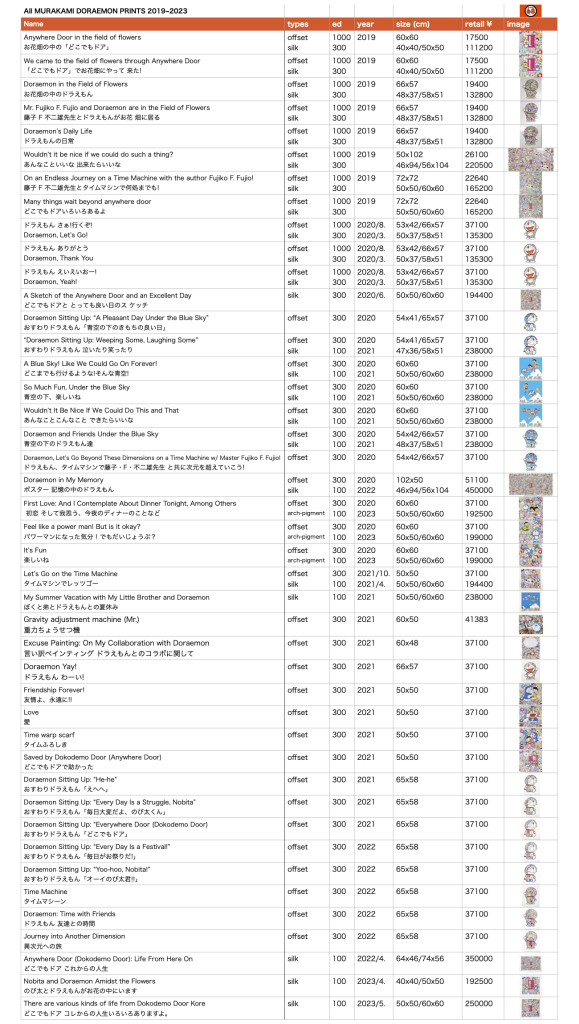 The Prints
In 2019, the Fujiko F. Fujio Museum in Kawasaki launched the first release followed by the release at the special Doraemon Osaka event. After the 2019 and early 2020 releases, Tonari Zingaro issued all of the later prints online.
How Many Prints?
The print run currently consists of 63 editions that make up 23600 prints!! The sheer volume is overwhelming, surpassing Flower Ball and rivaling the number of editions of Hana-chan, and perhaps nearly numbering the various incarnations of Dob! Doraemon represents roughly 20% of Murakami's lifetime total hanga output with 26 editions of 4800 prints with respect to the Kaikai Kiki total of 200 editions representing roughly 20,000 prints. (Take the counts from It's Silkscreens All the Way Down and add 77 editions of 7700 Murakami hanga from 2020-2023 to get the total.) Notable are the offset editions of 1000 and silkscreen editions of 300 as part of the initial release of the Doraemon series. Typically Murakami offset editions make up 300 prints while silkscreen editions consist of 50 or 100 prints.
Two Signatures or One?
The prints apparently have two signatures but actually only Murakami's eponymous signature is a real signature. The other signature is a print of the hybrid signature representing the team alias of Fujiko F. Fujio. Evidence for its non-signature status: Across all prints, the "signature" Fujiko F. Fujio looks perfectly consistent with no variation; Kaikai Kiki has released no photos of Motoo Abiko signing a print, which typically exists as part of Kaikai Kiki's marketing; and Motoo Abiko passed away in 2022 making any attributions to him for later prints impossible.
Offsets? Silkscreens? Archival Pigments?-What's the Difference?

Prices among prints can vary significantly since most prints in the collection have both an offset and a silkscreen/archival pigment version. Since 2023 Murakami has released archival pigment variants of the Doraemon prints. The archival pigment prints are silkscreened to produce images with layered outlines. Silkscreens and archival pigment editions cost roughly 6~7 times the price of an equivalent offset edition. The offsets retailed between 17,500~51,000 yen with an average price of around 37,000 yen. The silkscreens retailed for 111,200~450,000 yen with an average price of about 200,000 yen. The price contrast reflects production cost differences with respect to labor, edition size, print quality and demand.
The pictures below show the distinction between the silkscreen and offset editions of Wouldn't it be nice if we could do such a thing? Silkscreens have images outlined with a visible black layer in contrast to the offsets, which have lines without such a gradation. Silkscreens use gold or platinum for the shiny parts of the print whereas offsets have shiny cold stamp foil sections. Silkscreens have margins, and the overall image dimensions are slightly smaller than the dimensions of equivalent offset prints.
Offsets or Silkscreens?
When considering whether to choose the silkscreen or offset edition, the answer is simple, get both!! Offsets have strong cost performance but silkscreens represent high quality pieces created from processes used for Murakami's original works. Any Durakami print will brighten your day!! Don't forget to exit through the gift shop😉